How do I use alerts in TSTrader®?
The TSTrader platform comes with conditional alerts built-in.  These alerts can range from simple conditions to advanced, multi-level conditional alerts. 
To create/edit alerts in TSTrader, click on the Alerts icon in the top left corner of the platform:

This will default the the New Alert tab where you can begin creating new Simple or Advanced alerts.
With our Simple alerts, you can select to be alerted when a condition occurs on a particular Symbol, Account, or Position.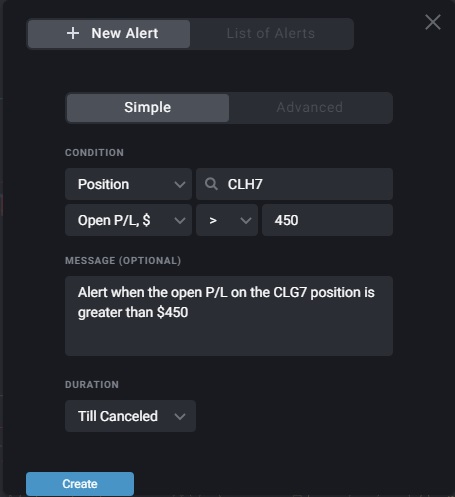 Advanced alerts can also be created to alert you based on meeting any or all of the conditions selected when creating the alert.
To manage your alerts, you can switch to the List of Alerts tab and see any Active, Triggered or Disabled alerts and you can choose to Edit, Reset, Disable or Delete alerts altogether:
Once an alert is generated, you will be notified through an audio notification as well as visual cue on the alerts icon and hovering over this will provide more details of the alert: